On August 9, 2016 Etsy published a story about me, my daytime job as an archaeologist and my Etsy shop xroma:
How an Archaeologist Uncovered a Passion for Bold Jewelry
When she's not digging up ancient relics in Greece, Christine makes bright resin rings and necklaces for her Etsy shop, xroma. 
As a full-time archaeologist, Christine's life is filled with thrilling discoveries. "When I find something that hasn't been held in 4,500 years," says Christine, "it still touches me and I feel a special connection with the person who left it there so many years ago." She  hopes her customers share a similar feeling when opening a package from  her jewelry shop, xroma.  
After studying archaeology and art history at the University of Athens, Christine began work in the archaeology field in 1995. Five years later, she landed her current position as an archaeologist leading excavations for the Ministry of Culture, the Greek government department that handles monuments, museums, exhibitions and  archaeological sites. A decade into her archaeology career, Christine  took classes on how to use two-part resin to make jewelry, taught by  local artisans in Athens. Through these lessons and some self-taught  tricks, Christine opened xroma on Etsy in 2013.  
xroma's colorful aesthetic originated in Christine's youth, when she watched her sailor grandfather paint seascapes. As a little girl, she was mesmerized by the way he would swirl colors together to create new  ones. Like her grandfather, she's drawn to the water. Today Christine finds inspiration for her minimalist rings and necklaces in the field at  her day job. Her archaeological digs take place by the ocean. She specializes in settlements of the Bronze Age in the Aegean Sea —  specifically the second and third millennium B.C. "Working by the sea, the scenery, the colors of nature, those all have influenced my  creations," Christine says. "My familiarity with ancient artifacts has  helped me evolve my personal creative style."  
Christine's archaeology career requires her to travel for extended periods of time for excavations in the summer. While she lives on-site for the dig in July and August, her husband takes care of their daughter Myrsini and son Panos, 9 and 12 years-old respectively. The rest of the year Christine works out of a facility in Athens for her day job. Here she shares a glimpse into a day in her life in both the winter and summer months.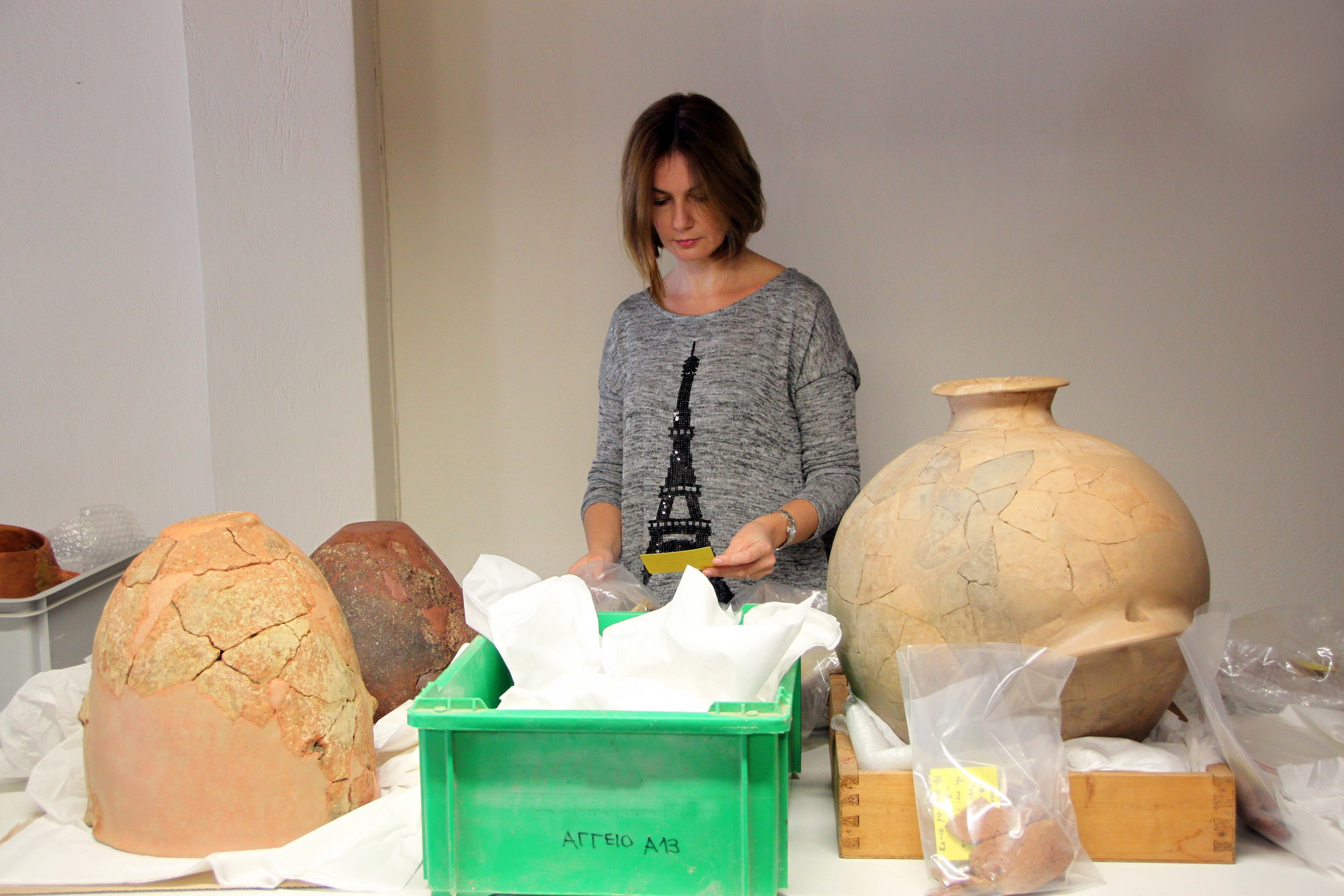 Winter
Christine wakes up around 6:30 a.m. She checks her Etsy shop for new orders, replies to customer Conversations and sips a cup of coffee. She leaves for work at 7:30 a.m., and drops orders off at the post office on her way. The research facility is located about half an hour by train  from her home. At work, she reads, researches and studies the artifacts from the previous excavation. Most of her findings include ceramic vessels, stone tools, metal weapons, gold or silver jewelry, animal bones and cloth-making tools. Once an excavation is completed, it is her  responsibility to help establish the site as a cultural monument and  prepare it for visitors.  
She finishes the day at 4 or 4:30 p.m. and picks up her children from school. After her kids finish their homework, Christine drives Panos to football practice and Myrsini to ballet. Christine does pilates while she waits. Afterwards, she takes them home to make dinner around 8 or  8:30 p.m.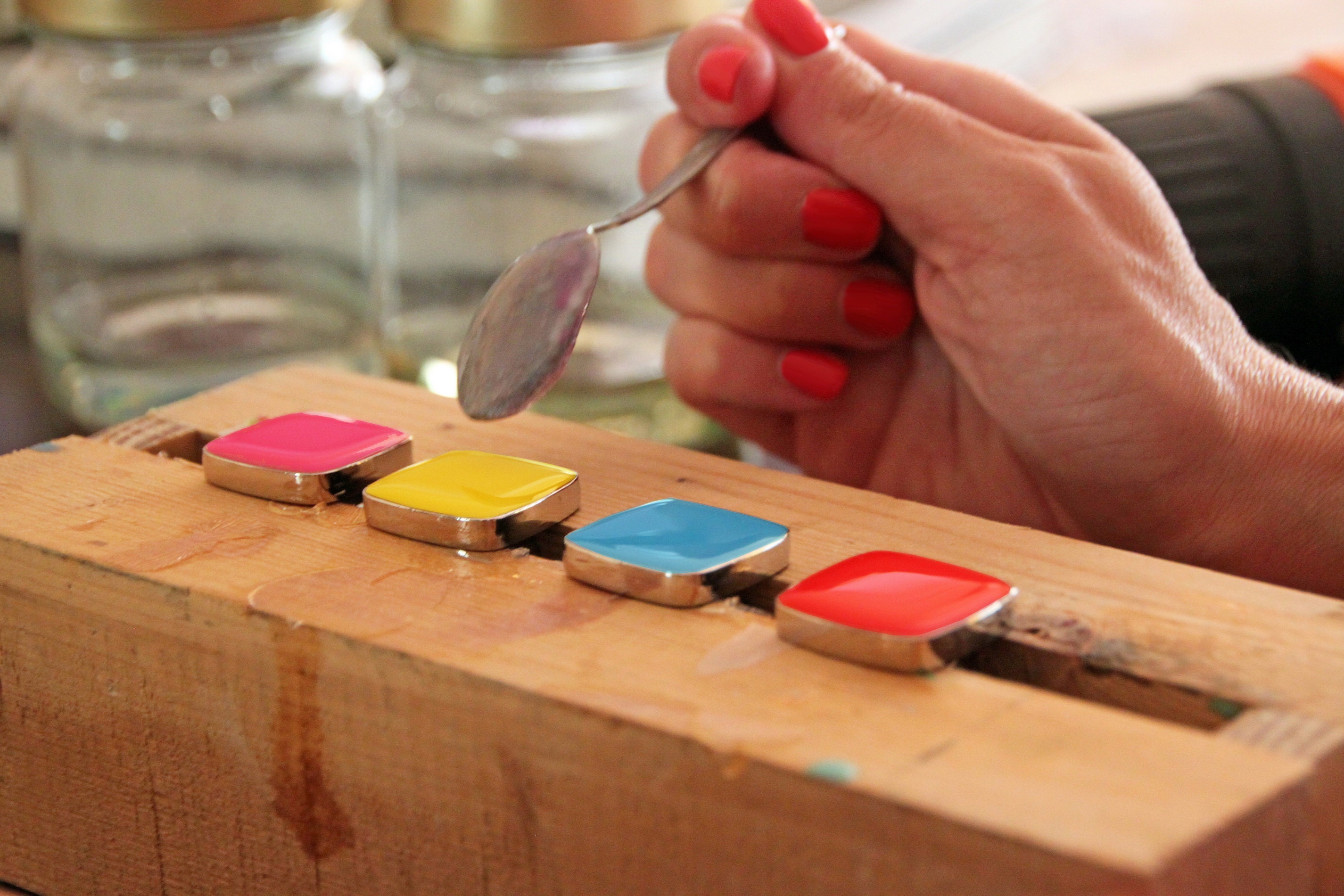 In the evening, Christine makes jewelry at home in her cozy workspace. "I mix the resin and the catalyst with a tiny teaspoon, then I add the colorings," she says. "I stir them very well to make one material. I add the color pigments to make a certain color shade." She pours this mix  into the bases, using a heat gun to warm the mixture so it cures and hardens. She keeps her workspace warm and free of humidity, watching the jewelry for several hours and using the heat gun to ensure the resin doesn't attract dust or form bubbles. "It takes about one or two days to  become solid and hard, like a natural glass, with a smooth and shiny surface," says Christine. After wrapping up in the studio, she gets to bed around midnight.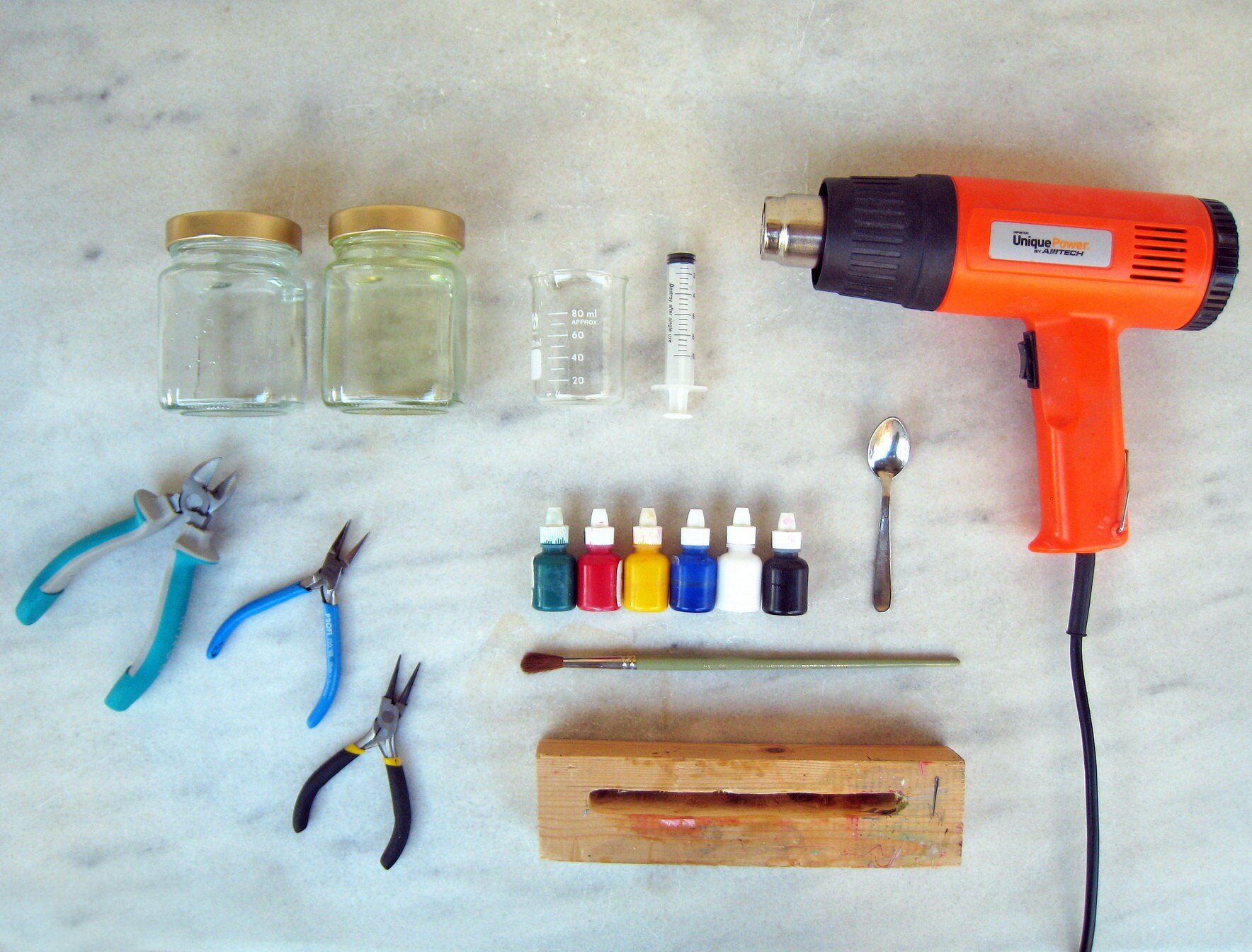 Summer
Christine's day begins a bit earlier when she's on an excavation, so any xroma work has to wait until later. Christine's team of five or six people dig and conserve the artifacts, and they all get started around 7  a.m. to avoid the intensity of the sun. "I take detailed notes, draw,  take photographs," says Christine. "I give them directions of where and how to dig, how fast and how slow." The team digs in thin layers in order to understand the chronological phases of the terrain. Due to the  delicate nature of these artifacts, it's important to unearth everything very carefully. It may seem tedious, but Christine is still excited by the intrigue of the dig 18 years into her career. "The mystery of the Bronze Age is what draws me most," says Christine. "It's a more unknown period. I feel like a time traveler because I gather facts and try to  make a picture of something that was so long ago."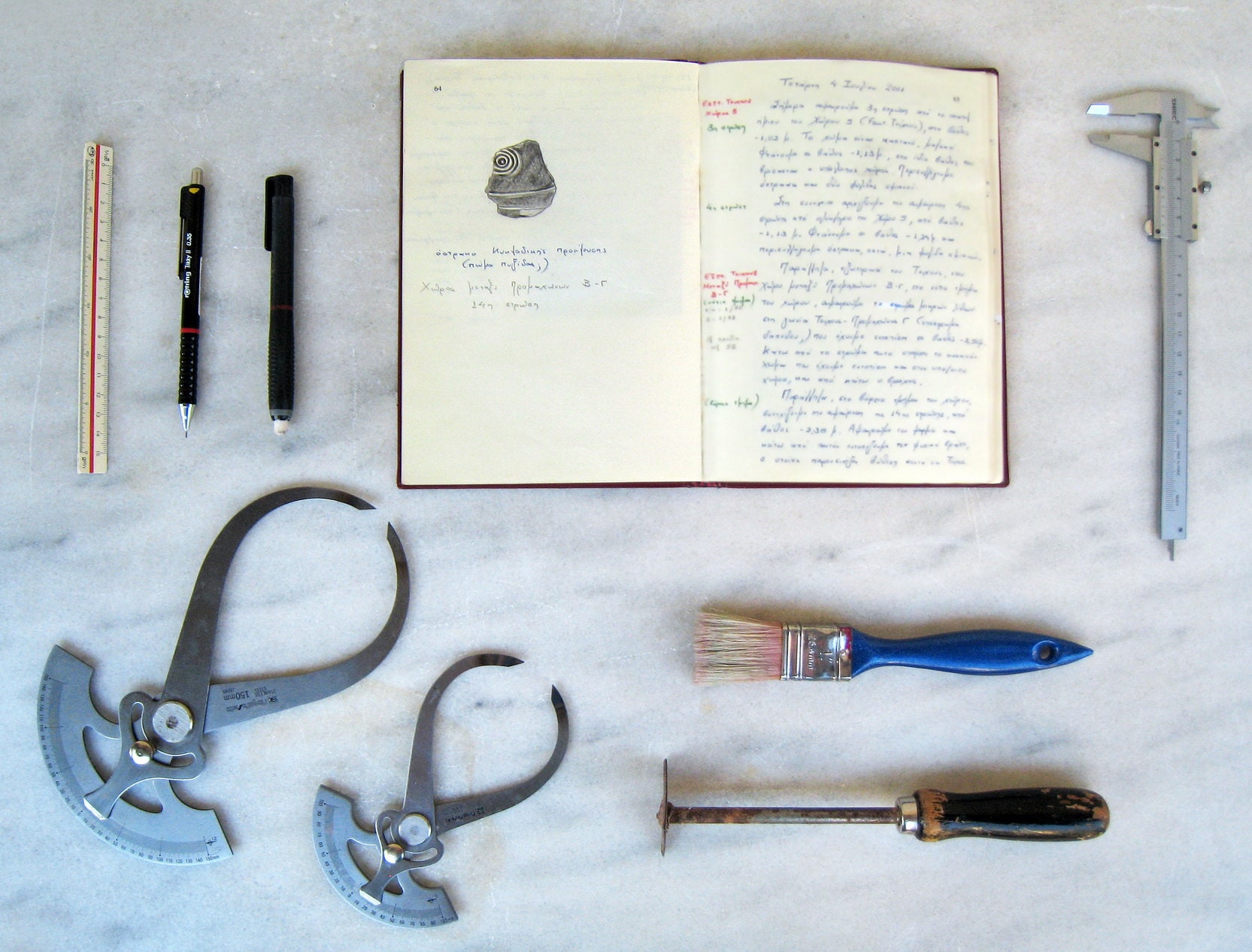 The team wraps up at 2 or 2:30 p.m., and Christine shifts gears to focus on any orders that need to be filled in her shop. The housing space she  shares with her co-workers is small, so she's unable to bring her  jewelry tools and materials. Instead she stocks up on her bestsellers  and brings them with her for the trip, so she can keep xroma open. Christine deactivates the other listings until she returns home. She  checks on her shop, responds to messages and makes time to drive to the closest post office to mail orders in a timely fashion. When she doesn't  have orders to fill, Christine spends her evenings swimming, walking or  enjoying a meal or coffee with her colleagues. Since she's frequently  stationed a few hours from home by boat, she visits her family every other weekend.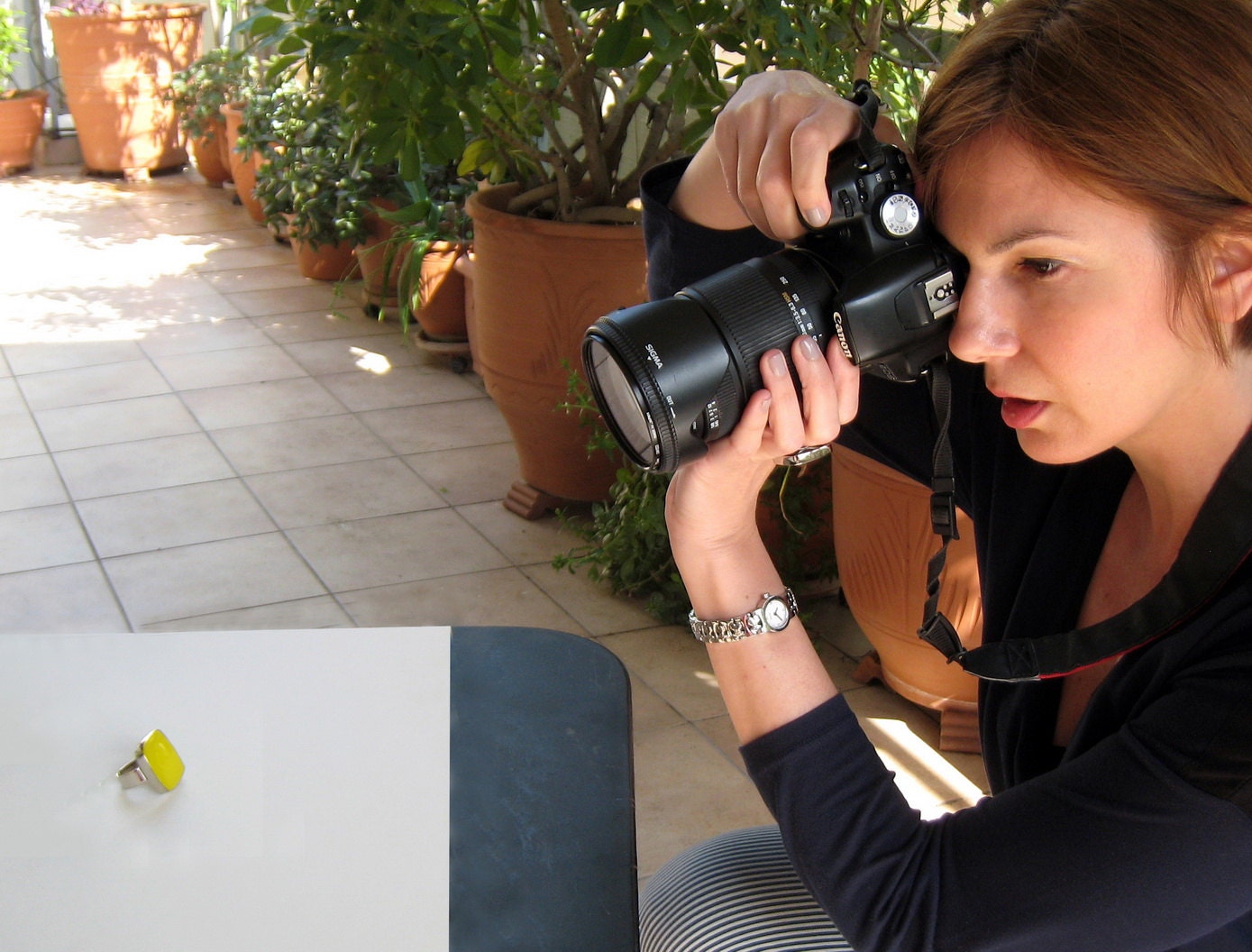 It's no easy feat to maintain a healthy work-life balance when you're as  busy as Christine is. "It helps that I'm a control freak," she says. "I  use to-do lists and checklists." Her stellar organizational skills are what make her workflow so efficient, and allows her some time for herself. She appreciates simple pleasures, like taking photos for her Instagram and reading Scandinavian crime novels.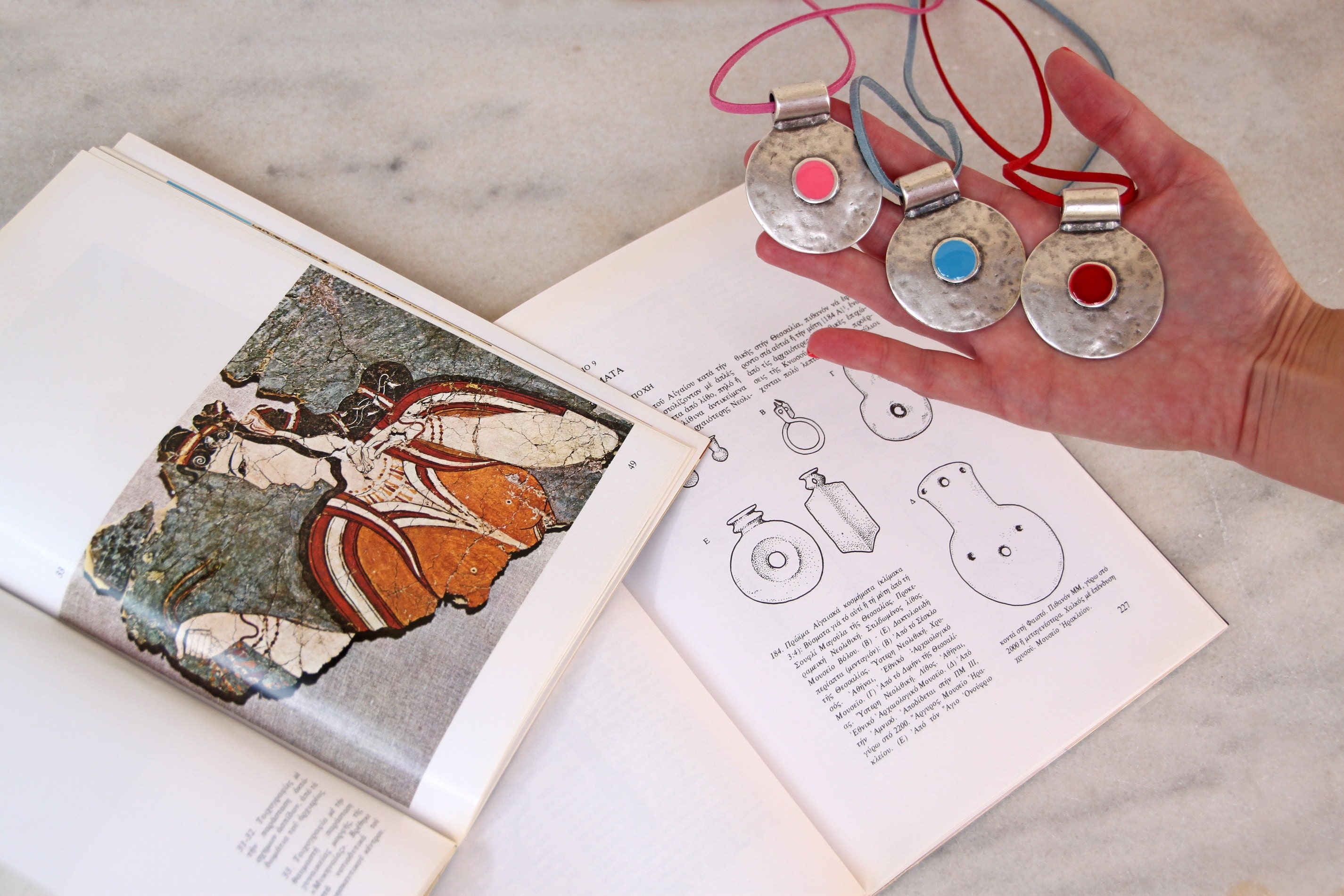 Whether getting her hands dirty with ancient grit and dust or bursts of  color, Christine's day job and Etsy shop work in tandem to meet her personal and professional needs. "Archaeology is about research and the thrill of discovery," says Christine. "In jewelry-making it's about  inspiration and creativity." Her career in cultural studies gives her a  platform to answer new questions and uncover ancient stories, making  each day fresh. Meanwhile, creating jewelry by hand provides the opportunity to materialize her own ideas. "It's so rewarding to craft a  piece that adds a dose of color in a woman's outfit, that can make everyday life more beautiful," Christine says. 
With her dedicated work ethic, resilience and enthusiasm, Christine's outlook on life is as bright as xroma's color palette. 
Original article from Etsy's Seller Handbook, here: